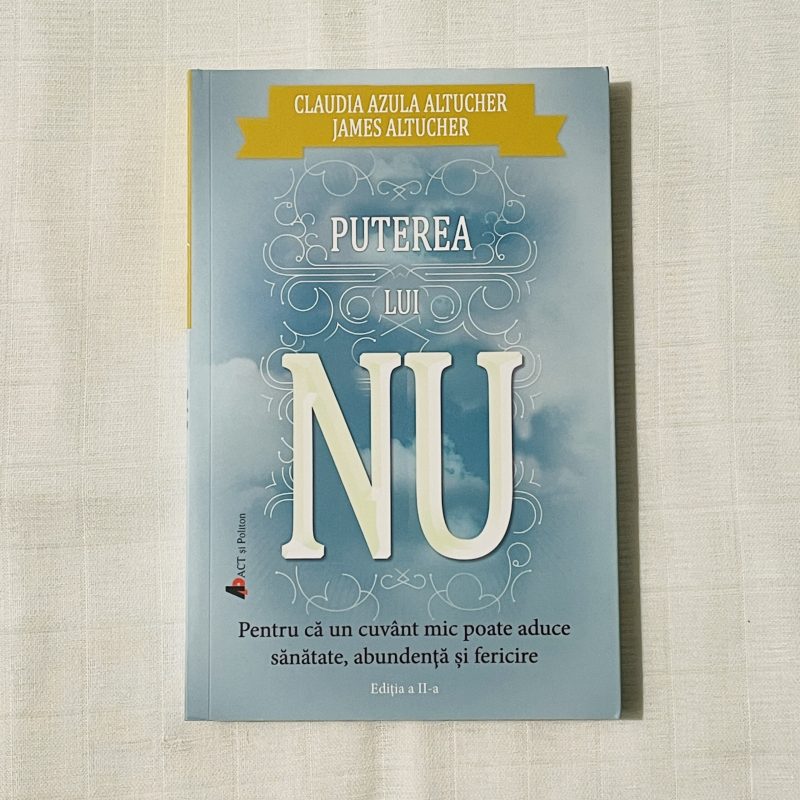 Puterea lui NU de Claudia Azula Altucher si James Altucher
$19.99
"…Aceasta este cartea care te va ajuta sa-ti exploatezi puterea pe care e posibil sa nu fi stiut ca o ai. O putere care iti poate aduce in viata abundenta, iubire si, in cele din urma, pace… " Romanian Book USA Facebook
Out of stock
Description
Puterea lui NU
Romanian Book USA va ofera cartea Puterea lui NU (The Power of No), de James Altucher si Claudia Azula Altucher.
"Puterea lui NU propune o abordare proaspata ca sa devii maestru in arta utilizarii lui nu pentru a spune da vietii. Bazandu-se pe o inteligenta practica si spirituala, James si Claudia conduc cititorul ?ntr-o neasteptata calatorie, care exploreaza o varietate de cai ce ne ?mpiedica sa fim pe deplin prezenti aici si acum. Cartea lor este plina de o magie care ?ti poate schimba viata, daca esti indeajuns de curajos sa le urmezi exemplul!" (Cheryl Richardson, autoarea cartii "The Art of Extreme Self Care")
Aveti dreptul sa spuneti "nu" lucrurilor care va afecteaza in mod direct. Aveti dreptul sa va alegeti anturajul, indiferent de ce va impune societatea. Aveti dreptul sa spuneti "nu" la orice sta in calea fortei voastre creatoare si o impiedica sa va aduca o viata de abundenta. Fiecare om este o combinatie unica de ADN, mediu, cultura si experiente personale. Pentru ca voi sa spuneti "da" la ceva, acel ceva trebuie sa fie special pentru voi.
"Nu este deloc o intamplare ca citesti acum aceste randuri. Ai vazut, cu siguranta, cartea pe un stand si ti-a atras atentia titlul. Cuvantul "Nu" din titlu. Esti, desigur, genul de persoana mai inclinata sa spuna da celor care iti cer ajutorul, decat nu celor care cer prea mult. Si te gandesti sa schimbi ceva…
Ei bine, ai nimerit unde trebuie. Aceasta este cartea care te va ajuta sa-ti exploatezi puterea pe care e posibil sa nu fi stiut ca o ai. O putere care iti poate aduce in viata abundenta, iubire si, in cele din urma, pace.
Aceasta putere i-a ajutat pe autorii cartii de fata, dupa cum chiar ei marturisesc, sa indeparteze influentele negative din propria viata, si sa faca loc influentelor pozitive. Sa atraga bani, iubire, sanatate si oportunitati."
Puterea lui NU de Claudia Azula Altucher si James Altucher