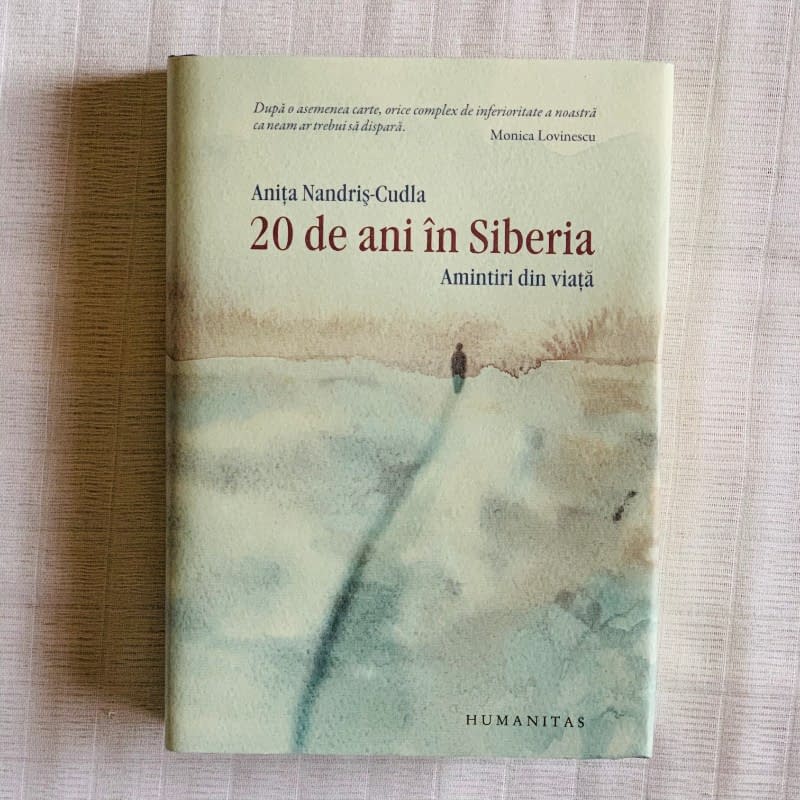 20 de ani in Siberia. Amintiri din Viata de Anita Nandris Cudrea
$26.99
"…20 de ani in Siberia – o asez printre cele mai fantastice carti care s-au scris in tara noastra. In fata ei multe carti, multi scriitori si multi eroi literari palesc. Dupa primul soc si cea dintai nedumerire a cititorului, chiar si a unui erudit academician, poate dupa un numar de ani in care uimirea se va fi asezat, deodata cineva va pricepe si va ridica aceasta carte – a Anitei cu trei clase primare si suflet cat o istorie nationala, de o autenticitate stilistica geniala – si le va aseza, fiinta si cartea, la umarul marilor nostri marturisitori ai sufletului romanesc." – Stefan J. FAY
Estimated delivery:
3 days
Description
"…20 de ani in Siberia – o asez printre cele mai fantastice carti care s-au scris in tara noastra. In fata ei multe carti, multi scriitori si multi eroi literari palesc. Dupa primul soc si cea dintai nedumerire a cititorului, chiar si a unui erudit academician, poate dupa un numar de ani in care uimirea se va fi asezat, deodata cineva va pricepe si va ridica aceasta carte – a Anitei cu trei clase primare si suflet cat o istorie nationala, de o autenticitate stilistica geniala – si le va aseza, fiinta si cartea, la umarul marilor nostri marturisitori ai sufletului romanesc." – Stefan J. FAY
"Cartea e o revelatie si s-ar cere primita ca atare. Nu doar privitor la soarta deportatilor romani in Gulagul sovietic povestirea Anitei Nandris-Cudla aduce o marturie esentiala, dar si pentru reconstituirea staturii taranului bucovinean: o statura net aristocratica, pe care metamorfozele provocate de comunism o aruncasera nu numai in trecut, ci, s-ar spune, aproape in legenda. Or, iata ca, odata cu Anita Nandris-Cudla, legenda ia conturul firescului, iar realitatea ei ni se impune din nou. Dupa o asemenea carte, orice complex de inferioritate a noastra ca neam ar trebui sa dispara. Cartea aceasta, care nu numai ca se cere neaparat citita, dar ar merita sa fie asezata, prin biblioteci, intr-un raft al clasicilor, descrie unul din cele mai cumplite destine." – Monica LOVINESCU
Informations
Shipping
Fast shipping. 3-5 days for USA and 5-7 days for Canada.
Privacy Policy
Your privacy is important to us. This privacy notice sets forth the privacy policy ("Privacy Policy") of Romanian Books USA regarding personal information that RBU collects, and the ways in which RBU uses that personal information. More info.
Terms & Conditions
Welcome to the RomanianBooksUsa.com online bookstore, a website owned and operated by Romanian Books USA LLC (RBU). More info.
Assistance
Contact us on Facebook / Instagram or email us at  info@romanianbooksusa.com.
Specifications
| | |
| --- | --- |
| Author | Anita Nandris-Cudrea |
| Publisher | Humanitas |
| ISBN | 9789735054038 |
| Cover Type | Hardcover |
| Language | Romanian |
| Pages | 264 |