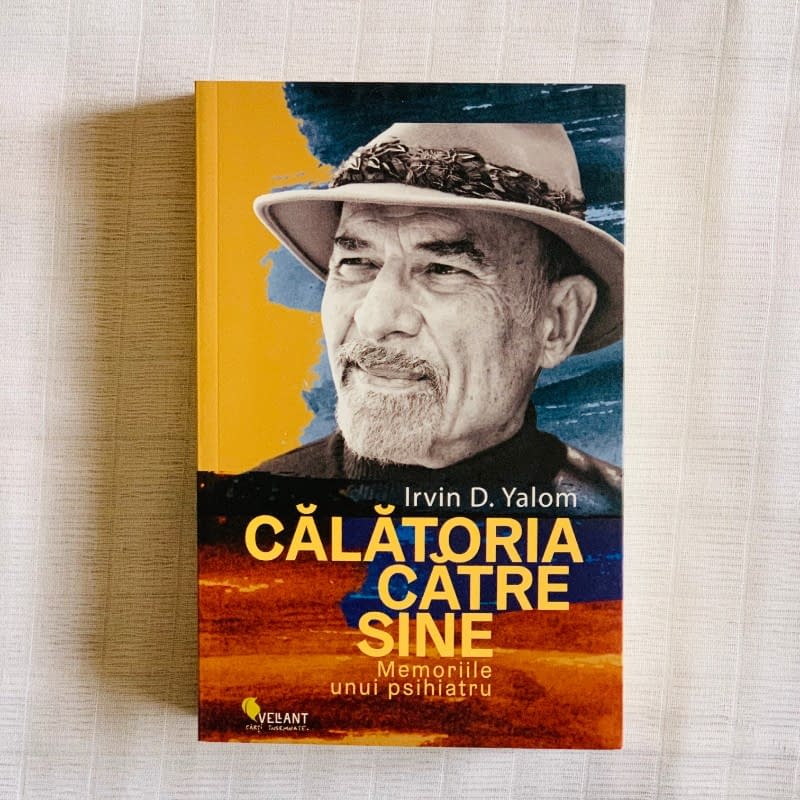 Calatoria Catre Sine de Irvin Yalom
$25.95
"Daca psihoterapia ne da sansa unei "existente examinate", atunci volumul autobiografic – Calatoria catre sine – al lui Yrvin D. Yalom ne ofera ceva in plus. Imaginea de cealalta parte a oglinzii, parcursul psihoterapeutului, cu incercarile, cu punctele de cotitura, iubirile si indoielile, dar si momentele de "Evrika!". Yalom se dezvaluie cititorului prin acest demers introspectiv curajos si profund umanist: psihiatrul, asemeni tuturor, traverseaza aceleasi distante in drumul catre sine."
Estimated delivery:
3 days
Description
"Daca psihoterapia ne da sansa unei "existente examinate", atunci volumul autobiografic – Calatoria catre sine – al lui Yrvin D. Yalom ne ofera ceva in plus. Imaginea de cealalta parte a oglinzii, parcursul psihoterapeutului, cu incercarile, cu punctele de cotitura, iubirile si indoielile, dar si momentele de "Evrika!". Yalom se dezvaluie cititorului prin acest demers introspectiv curajos si profund umanist: psihiatrul, asemeni tuturor, traverseaza aceleasi distante in drumul catre sine.
Sunt un incepator al varstei de optzeci si cinci de ani. Uneori accept ideea ca batranetea ar trebui sa fie un timp de odihna, liniste si reflectare impacata. Totodata, stiu ca inca mai exista sentimente turbulente din tineretea mea care continua sa ameninte ca vor iesi la suprafata imediat ce incetinesc ritmul. Am citat mai devreme cuvintele lui Dickens: "Intrucat, apropiindu‑ma de‑acum tot mai mult de sfarsit, ma deplasez intr‑un cerc tot mai aproape de inceput." Sunt cuvinte care ma bantuie. Simt tot mai mult fortele care ma trag inapoi spre inceputurile mele. – Irvin D. Yalom Irvin D. Yalom este profesor emerit de psihiatrie la Universitatea Stanford si practica psihiatria in San Francisco si Palo Alto. Impreuna cu sotia sa, Marilyn, are patru copii si sapte nepoti. Locuieste in Palo Alto, California."
Informations
Shipping
Fast shipping. 3-5 days for USA and 5-7 days for Canada.
Privacy Policy
Your privacy is important to us. This privacy notice sets forth the privacy policy ("Privacy Policy") of Romanian Books USA regarding personal information that RBU collects, and the ways in which RBU uses that personal information. More info.
Terms & Conditions
Welcome to the RomanianBooksUsa.com online bookstore, a website owned and operated by Romanian Books USA LLC (RBU). More info.
Assistance
Contact us on Facebook / Instagram or email us at  info@romanianbooksusa.com.
Specifications
| | |
| --- | --- |
| Author | Irvin Yalom |
| Publisher | Vellant |
| ISBN | 9786069800188 |
| Language | Romanian |
| Cover Type | Soft Cover |
| Pages | 400 |