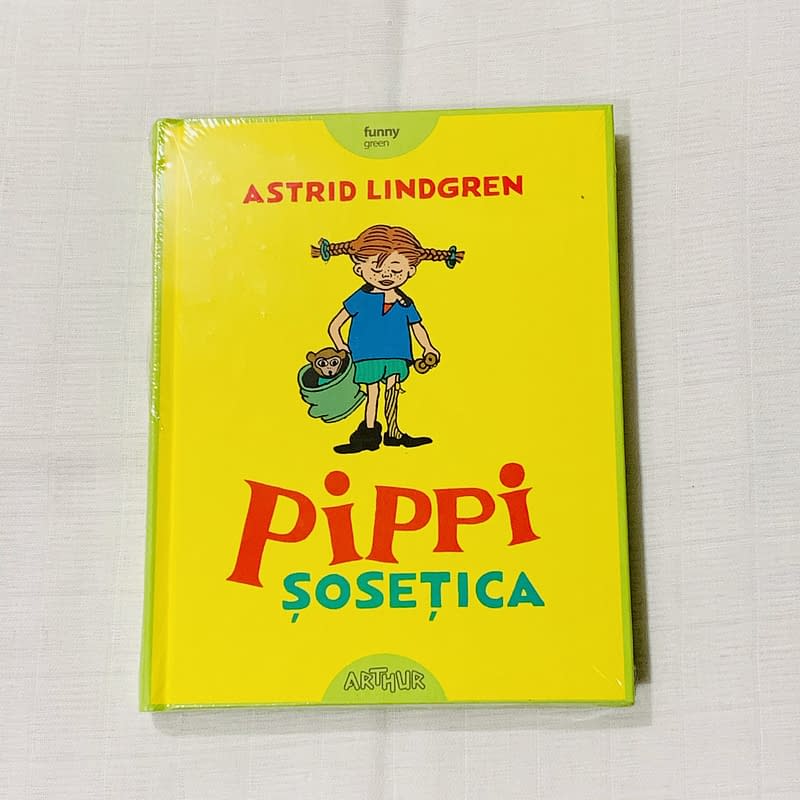 Pippi Șosețica de Astrid Lindgren
$21.99
"Cu părul roşu ca morcovul, strâns în două cozi ţepene, pistruiată şi cu gura până la urechi, cu ciorapi desperecheaţi şi cu pantofi în care ar putea încăpea încă o pereche de picioare, fetiţa de nouă ani e o apariţie remarcabilă. Acţiunile ei îi lasă pe toţi cu gura căscată: după o întâlnire cu Pippi, până şi hoţii se lasă de meserie…"
Estimated delivery:
3 days
Description
"Cu părul roşu ca morcovul, strâns în două cozi ţepene, pistruiată şi cu gura până la urechi, cu ciorapi desperecheaţi şi cu pantofi în care ar putea încăpea încă o pereche de picioare, fetiţa de nouă ani e o apariţie remarcabilă. Acţiunile ei îi lasă pe toţi cu gura căscată: după o întâlnire cu Pippi, până şi hoţii se lasă de meserie.
Odată cu instalarea ei în Vila Villekulla, cu o maimuţică pe umăr şi un cal pe verandă, viaţa celor din jur se schimbă radical. Prietenii ei, Annika şi Tommy, încep să privească lumea prin lentila imaginaţiei lui Pippi şi nicio zi nu mai seamănă cu alta."
"Pippi face parte din tradiția personajelor care răstoarnă lumea oamenilor mari, fie chestionând-o, ca Alice, fie aruncând-o de-a dreptul în haos, asemenea Cotoiului cu Pălărioi al lui Dr. Seuss." The Guardian
Informations
Shipping
Fast shipping. 3-5 days for USA and 5-7 days for Canada.
Privacy Policy
Your privacy is important to us. This privacy notice sets forth the privacy policy ("Privacy Policy") of Romanian Books USA regarding personal information that RBU collects, and the ways in which RBU uses that personal information. More info.
Terms & Conditions
Welcome to the RomanianBooksUsa.com online bookstore, a website owned and operated by Romanian Books USA LLC (RBU). More info.
Assistance
Contact us on Facebook / Instagram or email us at  info@romanianbooksusa.com.
Specifications
| | |
| --- | --- |
| Author | Astrid Lindgren |
| Publisher | Arthur |
| ISBN | 9786060860037 |