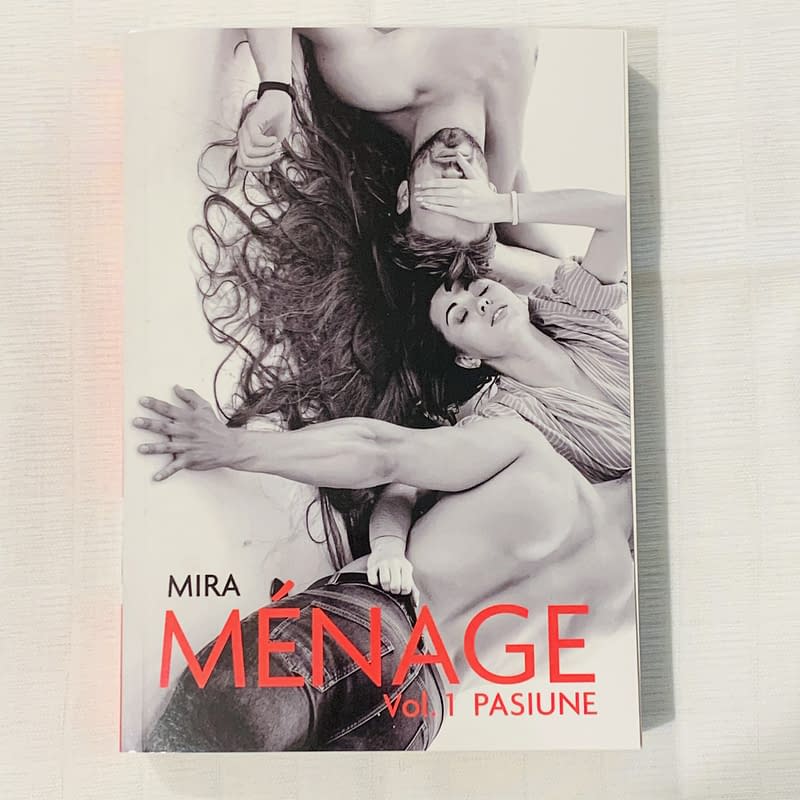 Menage Vol 1 Pasiune de Mira
$20.95
"Viața liniștită și lipsită de griji a Isabellei este complet dată peste cap din clipa în care află că cea mai bună prietenă a ei are un mic accident de mașină într-un oraș îndepărtat. Întregul ei univers se destramă încă din clipa când îi cunoaște cât se poate de intim pe cei doi șefi ai Cristinei…"
Estimated delivery:
3 days
Description
"Viața liniștită și lipsită de griji a Isabellei este complet dată peste cap din clipa în care află că cea mai bună prietenă a ei are un mic accident de mașină într-un oraș îndepărtat. Întregul ei univers se destramă încă din clipa când îi cunoaște cât se poate de intim pe cei doi șefi ai Cristinei.
Principiile ei morale și regulile pe care le face într-un contract cu cei doi sunt complet încălcate după ce descoperă un mic și neașteptat amănunt. Dar regulile jocului trebuie urmate până la capăt și Isabell va avea parte, bine-nțeles,  de o mare surpriză.
Onur mă sunase în acea dimineață să îmi spună că rochia de mireasă comandată a ajuns cu bine la hotel. Iar camera era aranjată exact așa cum menționasem în contract, în cel mai mic detaliu. Recunosc că aveam emoții, dar la acest eveniment visasem cu ochii deschiși încă de când eram o copilă de vreo paisprezece ani și mi se părea absolut normal să fie așa. Mă bucuram că în sfârșit acel vis devenea realitate.
Împreună cu Cristina alesesem rochia de mireasă dintr-un catalog online. Bineînțeles că mi-a luat ceva timp să mă decid, dar într-un final am ales-o pe cea la care am visat dintotdeauna că o voi purta în noaptea nunții.
Era exact așa cum mi-am dorit-o, de prințesă, și potrivit spuselor Cristinei valora cam cât câștigul lui Onur pe un an. Dar asta nu a mai contat. El însuși m-a rugat să nu mă uit la bani atunci când o voi comanda, iar eu chiar asta am și făcut!
Pentru această zi deosebită Cristina mi-a făcut o programare la un salon de lux din centrul Istanbulului, care avea un pachet special pentru astfel de evenimente. Pentru noaptea nunții te aranjau din cap până-n picioare, iar asta mi-a luat desigur cam o zi întreagă. (…)
După toate aceste mici răsfățuri miroseam și arătam divin. Pielea îmi era fină la atingere, iar masajul oriental de care avusesem parte mă relaxase total și mă făcuse să uit de tot stresul acumulat până să vin la salon în acea dimineață.
Toate aceste lucruri minunate au durat aproape toată ziua, iar la final am primit un mesaj pe telefon: Acest răsfăț e un cadou din partea mea pentru noaptea ce urmează, iubito! Selim"
Informations
Shipping
Fast shipping. 3-5 days for USA and 5-7 days for Canada.
Privacy Policy
Your privacy is important to us. This privacy notice sets forth the privacy policy ("Privacy Policy") of Romanian Books USA regarding personal information that RBU collects, and the ways in which RBU uses that personal information. More info.
Terms & Conditions
Welcome to the RomanianBooksUsa.com online bookstore, a website owned and operated by Romanian Books USA LLC (RBU). More info.
Assistance
Contact us on Facebook / Instagram or email us at  info@romanianbooksusa.com.
Specifications
| | |
| --- | --- |
| Author | Mira |
| Publisher | LETRAS |
| Language | Romanian |
| ISBN: | 9786060711032 |
| Cover Type | Soft Cover |
| Age | 18+ |