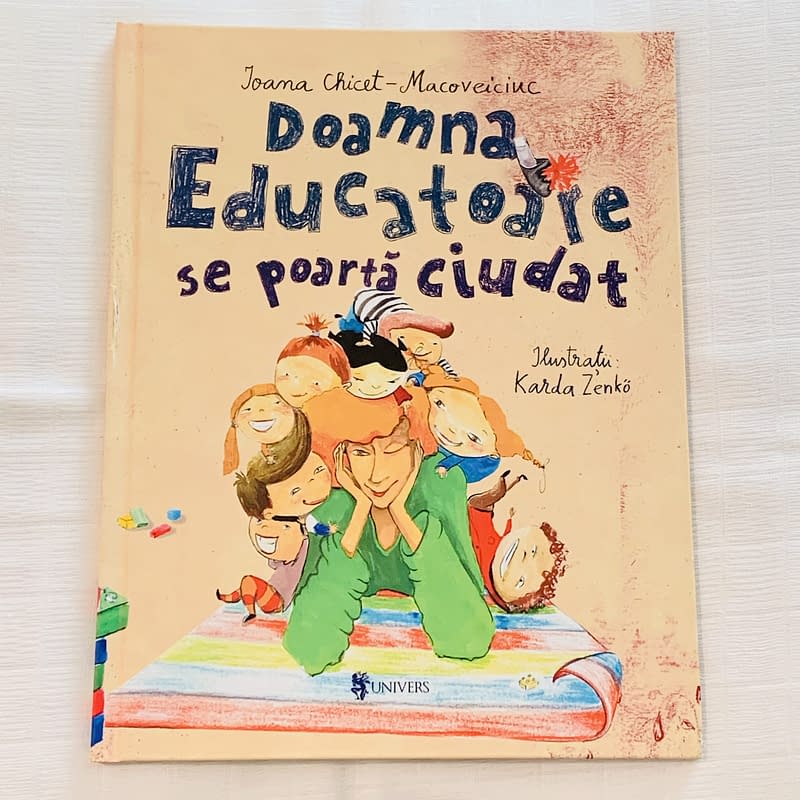 Description
"Dupa ce Mami si Tati s-au purtat ciudat si foarte ciudat, acum e randul Doamnei Educatoare sa faca lucrurile pe dos. Doamna, care e mereu atat de aranjata, de calma, care stie sa cante, sa picteze si sa spuna poezii atat de frumos, care e mereu acolo cu bratele deschise pentru copii, care stie sa-i impace si sa-i linisteasca, de data asta se poarta bizar. Vine la gradinita in pijamale, nu vrea sa ramana cu copiii si plange ca-i e dor de sotul ei, nu respecta niciun program, se inghesuie sa se dea doar ea pe toboganul din curte, se asaza la masa fara sa se spele pe maini, e complet lipsita de maniere, nu vrea sa doarma la pranz, iar seara decide ca vrea sa ramana la gradinita peste noapte, sa doarma ca Alba ca Zapada, pe paturile piticilor, adica ale copiilor.
Am scris cartea aceasta in primul rand ca sa fac copiii, parintii si educatorii sa rada. Nimic nu e mai pretios ca rasul impreuna! In plus, veti castiga si un sentiment de acceptare, de usurare si de relaxare la gandul ca si doamnele educatoare sunt oameni ca toti oamenii, ca uneori si lor le e greu la gradinita, ca si ele poate ar vrea sa se joace mai mult, sa aiba voie sa se poarte mai liber. Iar copiii si parintii vor vedea omul din spatele chipului mereu aranjat si-l vor iubi mai mult! Distractie placuta! – Ioana Chicet-Macoveiciuc"
Informations
Shipping
Fast shipping. 3-5 days for USA and 5-7 days for Canada.
Privacy Policy
Your privacy is important to us. This privacy notice sets forth the privacy policy ("Privacy Policy") of Romanian Books USA regarding personal information that RBU collects, and the ways in which RBU uses that personal information. More info.
Terms & Conditions
Welcome to the RomanianBooksUsa.com online bookstore, a website owned and operated by Romanian Books USA LLC (RBU). More info.
Assistance
Contact us on Facebook / Instagram or email us at  info@romanianbooksusa.com.
Specifications
| | |
| --- | --- |
| Author | Ioana Chicet-Macoveiciuc |